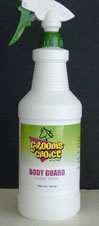 Body Guard®
All Natural Fly Spray
by Groom's Choice Products
An all natural fly spray for horses. Contains lanolin for moisturizing and Aloe Vera to promote healing of wounds.
Bodyguard® is waterbased and non-irritating - the safe, efective alternative to chemical based fly sprays.
$21.97 US (32 oz) - Order

Healthy Hooves®
All natural hoof treatment prevents hoof rot, thrush, hoof punctures, and cracked hooves. Safe to use on horses, sheep and cattle. A natural
fungicidal, astringent, antiseptic liquid that will maintain moisture balance. Perfect for cold weather applications.
$14.97 US (8oz) - Order
Face Guard®
All Natural Fly Wipe
For those areas that a spray is not advisable. The same great ingredients as BodyGuard® - but in a convenient gel form!


$14.97 US (8 oz) - Order
Mane Tamer®
A rinseless conditioner that easily detangles manes and tails. Works immediately to condition and assists tangles and knots to fall out. Leaves a non-oily shine with UV protectant.
$25.97 US (8 oz) - Order
Happy Horse® Shampoo
A herbal formula with Rosemary, Tea Tree Oil and Citronella Oil and Aloe Vera. Ph balanced for frequent use - lathers and rinses easily. Non-toxic and non-detergent makes this a favorite.
$9.95 US (16 oz) - Order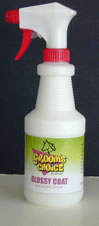 Glossy Coat®
Finishing spray with UV protectant that produces a long-lasting show sheen. Reduces static electricity, helps prevent stains, repels dust and dirt. Helps keep mane and tails tangle free.
$11.97 US (16 oz) - Order